Boulder County Colorado Contaminated Water Alert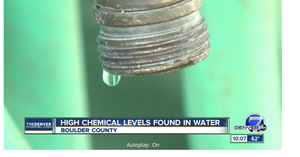 22ndJune 18
Residents in Sugarloaf, Colorado have been notified of a recent water contamination in the area and recommend those using well water have a sample tested to ensure it is safe.
 The Sugar Loaf Fire Protection District station have conducted a variety of water tests and found high levels of Perfluorinated Chemicals (PFC's), as used in firefighting foam. These toxic chemicals may be present in many resident's drinking water from local well contamination.
The Boulder County Public Health Department is currently trying to determine the extent of the contamination. Wells in the vicinity of Sugarloaf fire stations have all come back well above the limit of current health advisory minimum safe levels.
Residents who use private wells are recommended to have their water tested annually to ensure it is safe for drinking.
Aside from risks of leaching chemical contamination from local industries, well water sources need to be tested regularly to assess levels of bacteria, parasites, heavy metals and other contaminants.
Waters Co offer a range of solutions for the home to ensure that well and rainwater tanks can supply people with healthy, clean, safe drinking water at all times.  Our systems filter out all bacteria, parasites, heavy metals, and toxic chemicals, leaving you with a great tasting alkaline, mineral water.  With jugs and benchtop units, there is a size to suit every household.
Check out the range here: (link)